As an old jazz proverb explains,  "It don't mean a thing, if It ain't got that.. new beat" 🙂 So, this late summer playlist of modernjazz.gr easily adapts  to the demands of the season, highlighting related,  notable moments of the current "jazz" discography. Enjoy!
The playlist is available for free streaming on
or
You may dig in the albums that contribute to the playlist:
Iñaki Arakistain – Another Road
(smooth jazz, fusion) – Spain
Delightful samba rhythms and urban groovy style by saxophonist Iñaki Arakistain on his fourth album
Citrus Sun – Ride Like the Wind
(acid jazz) – London
Founder Jean-Paul 'Bluey' Maunick (g, voc) transforms the famous band  "Incognito" to Citrus Sun, for a new, smooth and mellow project
NBOC – NewBorn OutCry
(alt. hip-hop, electronic) – London
With Jay Phelps (CAN): vocals, trumpet – Courtney Brown (UK): vocals, bass & tenor trombones, tuba – and more guests
Review
Also on Bandcamp
Melbreeze – Animazonia
(vocal jazz, brazil, world, lounge)
Turkish born vocalist on Antonio Carlos Jobim's songbook. Interesting vocal articulation, Eastern flavors with sitar and tabla. Featuring Larry Koonse (g), Scott Kinsey (p), Jimmy Haslip (b)
Review 1
Review 2
The Royal Krunk Jazz Orkestra – Get It How You Live
(contemporary jazz, rnb,  big band) – Atlanda, Georgia
Widely known trumpeter Russell Gunn's cross-genre large ensemble
Downbeat review,  Nextbop review,  also on Bandcamp
Adam Kolker, Russ Lossing – Whispers and Secrets
(modern jazz) – New Jersey
Cool & sophisticated modern jazz ballads. Captivating tenor sax sound!
Adam Kolker (ts, ss, b.cl), Russ Lossing (p), Masa Kamaguchi (b), Billy Mintz (dr).
Synesthetic Octet – In the Meanwhile Shoot Me a Movie
(modern jazz, hip-hop, contemporary classical) – Austria
Innovating ensemble, led by clarinetist and composer Vincent Pongrácz
Review (DE)
Lady With – The Lodge 
(ambient) – Paris
Relaxing music composed by Camille Petit and played with physical, non-electronic instruments, by a 17 piece ensemble.
Also on Bandcamp
Salesny, Schabata, Preuschl, Joos – Jekyll & Hyde
(avant-garde/free) – Vienna
That's the meaning of the blues!
Clemens Salesny (as, b.cl), Woody Schabata (vib), Raphael Preuschl (el.b, ukulele bass), Herbert Joos (cnt)
Review (DE)
Charles Pillow Large Ensemble – Electric Miles 
(modern jazz, big band)
Nice big band arrangements of Miles Davis classics from his 1969 –  1972 electric period. Featuring soloists are Tim Hagans (tp), Clay Jenkins (tp), Charles Pillow (as, fl) and Dave Liebman (ss) as guest.  Scott Yanow's review
Justin Brown – Nyeusi 
(electro-funk, new jazz, fusion) – New York
Thick modern beat on drummer Justin Brown's first album, featuring Jason Lindner & Fabian Almazan (both on keys), Mark Shim (electronic wind controller), Burniss Earl Travis (b)
Downbeat review, also on Bandcamp
Mark Mitchell – Get Movin 
(smooth jazz) – Delaware, Philadelphia
Emotional smooth jazz saxophone playing by Mark Mitchell
Eren Coşkuner – Respective
(fusion) – Istanbul, Turkey
Classically trained flutist and passionate jazz musician who gets successfully into fusion.
Lewis Porter – Beauty & Mystery
(post-bop)
Get to know pianist Lewis Porter and enjoy his work with famous collaborators, John Patitucci (b), Terri Lyne Carrington (dr), also featuring Tia Fuller (as, ss)
All About Jazz review
Makaya Mccraven – Where We Come From – Live, Chicago x London Mixtape  (new jazz, rap/hip-hop, remix)
Chicago's "beat scientist" Makaya McCraven, meets on stage some of London's finest young jazz musicians, towards to the new era of "genre-bending" music
Makaya McCraven (dr), Soweto Kinch (sax, voc), Theon Cross (tuba) Joe Armon-Jones (Rhodes), Nubya Garcia (sax), Kamaal Williams (keys)    Review, also on Bandcamp


Victor Gould – Earthlings
(post-bop)
Acclaimed pianist Victor Gould's trio and respectable guests skillfully play well-rounded post-bop
Norah Jones – And Then There Was You (Live At Ronnie Scott's)
(vocal jazz)
A new single to enjoy  Nora Jones's fine artistry on  jazz ballads
Jesse Fischer – Flipped II
(jazz, nu-jazz, hip-hop, electronica) – Brooklyn
A fine, hip multi-instrumentalist on creative jazz re-works, featuring Billy Buss (tr), Godwin Louis (as) and Mino Cinélu (perc), among others
Find more info on Bandcamp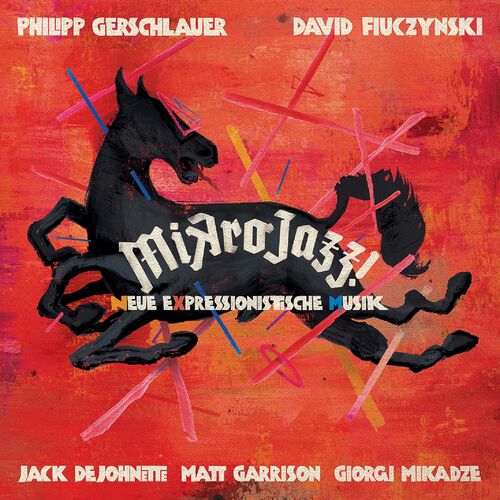 Philipp Gerschlauer, David Fiuczynski: Mikrojazz!
(modern jazz, avant-garde) – Berlin – 2017
Microtonalism, standing as the feature of music!
Read enthusiastic review on modernjazz.gr!
Goce Stevkovski Septet – Homage to a Dreamer
(contemporary jazz, fusion)
Experienced Skopje drummer Goce Stevkovski leads a septet of talented jazz musicians to their second album. Watch them also on video
Randy Brecker & Mats Holmquist – Together
(contemporary jazz, big band)
Randy Brecker, the great trumpeter of our times,  Mats Holmquist's arrangements and the famous UMO Jazz Orchestra, on a exciting, modern day classic! Read more..
Ai Kuwabara The Project – To The End Of This World
(modern jazz) – Japan
Awarded 27 y.o. pianist Ai Kuwabara and her new trio, plus a variety of guests, such as vocals, string quartets, saxophones, flutes and rappers
(Album not available on Spotify. Chosen tune "Mama" appears only on Deezer playlist)
Enrico Pieranunzi, Thomas Fonnesbæk – Blue Waltz
(contemporary jazz)
Melodic, lyrical and meaningful, live piano/bass duo in Copenhagen.
Aerie – Sonic
(modern jazz) – Berlin
EU band with original grooves
All About Jazz review
Aerie band
Jenny Penkin – Him, on the Other Hand
(neosoul, nu-jazz) – Tel Aviv
Lyricist/vocalist Jenny Penkin, drummer/producer Aviv Cohen (aka Sol Monk) and guests
Find more info on Bandcamp
José Pedro Coelho – Passarola Voadora
(modern jazz) – Portugal
Nice work and soloing by saxophonist José Pedro Coelho and his cooking jazz quartet/quintet
Also on Bandcamp
John Coltrane – Both Directions At Once: The Lost Album
(modal jazz)
We'll wrap this up with a dramatic version of  "Nature Boy", in "Equinox" style, from a 1963's "lost" recording that was released in June and thrilled all jazzophiles, shedding light on the evolution of that great musician and "mystes" of the 20th century, none other than John Coltrane!  Read npr.org
---
The playlist is available for free streaming on
or
---
Some more recent releases you may want to check:
Have a nice, jazz time!